Les Mineurs (Toile / canvas « The miners ») Bitcoin art commission.
Downloadable or limited (200ex) signed A3 prints available here :
http://youldesign.fr/site/categorie-produit/illustration/
I was commissioned for another big canvas about Bitcoin after the succes of the auction on « The Last (Bitcoin) Supper » on ebay by somebody who missed the auction at the end. It was risky to set a Btc price only and Btc goes down quickly after that, but it was the game, and a good way to show i believe in Btc. Even if world is not really ready …
Acrylic on natural linen big canvas 126×90 cm
Sold for 5 Btc in july (was a bit more than 3000$ at this time).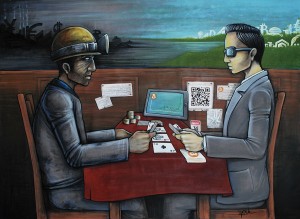 This about old and new miners, inspired by the famous « Cards players » from Cezanne.
The old miner goes with the old grey world where you can see « old » currencies like Dollar, Yen, Euro, or Ruble and he plays with gold.
The new kind of (Bitcoin) miner comes with a green shining world where you can see new alt ways as Btc, Mastercoin, Dodgecoin, Litecoin, Uro-coin, Shadowcash, Ripple, Canabis coin, and he plays with his paper wallet.
They play Texas Holdem poker, where new miner already get a pair of jack. but we don't know if the old one doesn't get an As pair like we don't know how Btc is going…
The Btc good time curve is shown on the tablet. The date on the calendar was asked by the commissionner.
If you like my work, you can tip me with the handmade QRcode.
I'm open for commissions, contact me !