YoulDesign is not only supporting Bitcoin since 2013 by accepting it as payment on this site, but also spread the crypto word trough paintings.
I like the way crypto works, and the way crypto thinks, it's really inspiring.
It's often an actualized and bitcoinized version of famous olds paintings, as it will take his place in this old world.
My first one was a « Starcraft like » graffiti (80x30cm) still available in the shop as limited signed prints of all canvas !

Then a commissioned Bitcoin last Supper (Acrylic on natural linen canvas 140×70 cm) from the « Cène » by Leonard De Vinci (currently in Andora).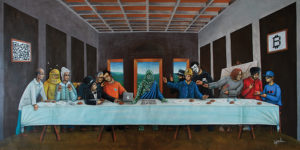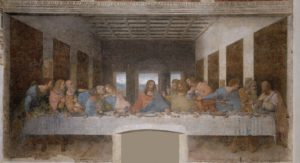 The next one was a commissioned « Les mineurs » (Acrylic on natural linen canvas 126×90 cm) from « les joureurs de cartes » by Paul Cézanne (currently in Singapour).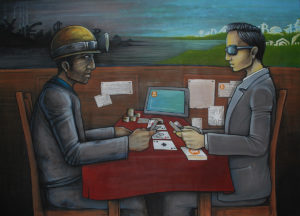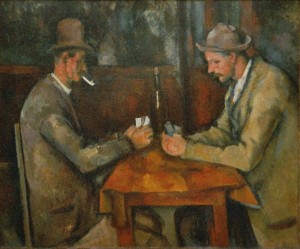 Another recent one is a commissioned « Crypto Liberty » (Acrylic on canvas 110×84 cm) from « La liberté guidante le peuple » d'eugène Delacroix (currently in Vancouver).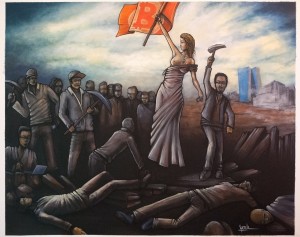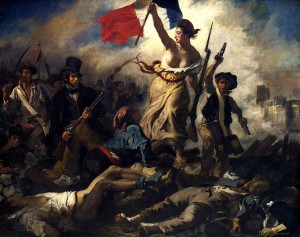 The following painting is a crypto version of social realism art for a private collection in Vancouver.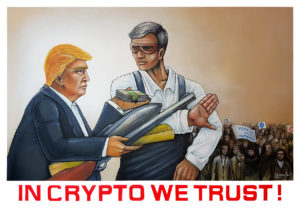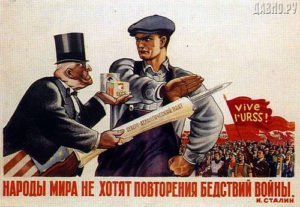 Another crypto version of social realism art for a private collection in Vancouver.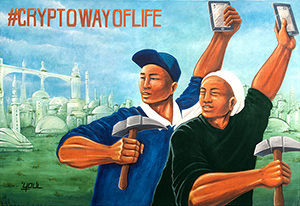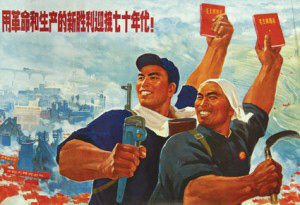 Here is a crypto version of a R.Goodwin canadian painting, about old and new trading, represented by the Dash token.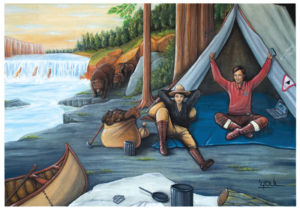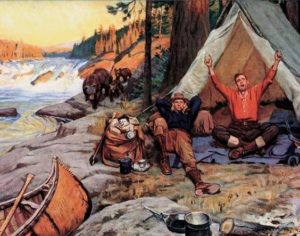 This one is about Dash, Moby Dash, where the Dash team navigate in the deep sea facing some whales…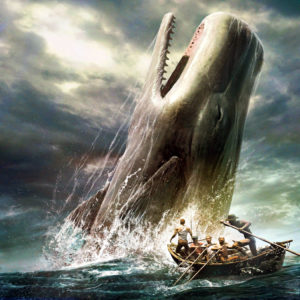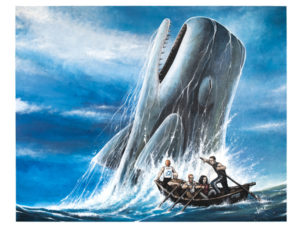 « Moby Dash est une peinture majoritairement bleue, inspirée du roman d'Herman Melville pour représenter la rude épopée de l'équipe à l'origine de la crypto monnaie « Dash ».
Cinq homme naviguent fièrement dans une petite barque (bas droite de l'image) face à l'océan et ses prédateurs qui se dressent devant eux.
Un cachalot jaillit hors de l'eau juste devant eux et occupe toute la partie centrale de la toile (la baleine, ou « whale » en anglais, étant dans le domaine boursier un détenteur de gros portefeuille).
On peut reconnaitre dans la barque les personnages importants et fondateurs du projet Dash, Ryan Taylor, le CEO tient la barre, guidé par Evan Duffield à l'avant poste.
De gauche à droite, Chuck Williams, Jeff Smith et Amanda B Johnson sont ceux qui font avancer le navire. »
I'm currently working on other commissions.
Deluxe llimited (/15) and signed art prints of all paintings are still available at the shop !
You can also order some 3printed Bitcoin stuff in the shop !!
I'm open for the next commissions just contact me 🙂
Here is a gallery with steps and more :
Some news about my work :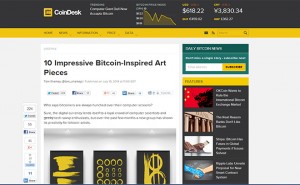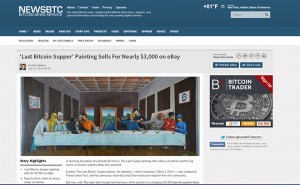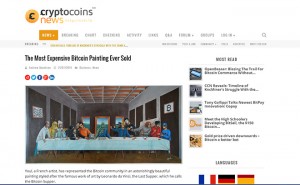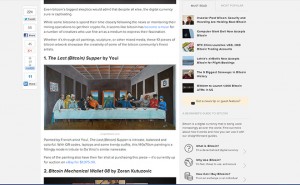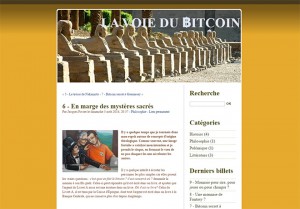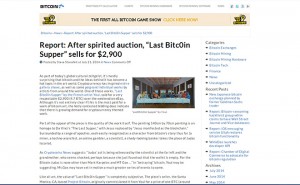 http://blog.holytransaction.com/2016/04/6-amazing-pictures-about-bitcoin
La voie du Bitcoin : http://blog.lavoiedubitcoin.info/post/Liberte
Coindesk: coindesk.com/10-impressive-bitcoin-inspired-art-pieces
Vice.com : http://motherboard.vice.com/read/the-devout-and-lucrative-world-of-bitcoin-fan-art
CryptoCoins News: The Most Expensive Bitcoin Painting Ever Sold
NewsBTC: 'Last Bitcoin Supper' Painting Sells For Nearly $3,000 on eBay
Bitcoinx: Report: After spirited auction, "Last Bitc0in Supper" sells for $2,900
La voie du Bitcoin: http://blog.lavoiedubitcoin.info/post/En-marge-des-mystères-sacrés6